Customer Service
All of our products are 100% guaranteed to be free from any defects. Because we specialize in only the very best mill-branded paper and envelopes, you can be assured of consistent quality time and again, order after order. All of our papers are guaranteed by their respective paper mills and all of our envelopes are manufactured by mill-authorized envelope converters and carry the same quality guarantee.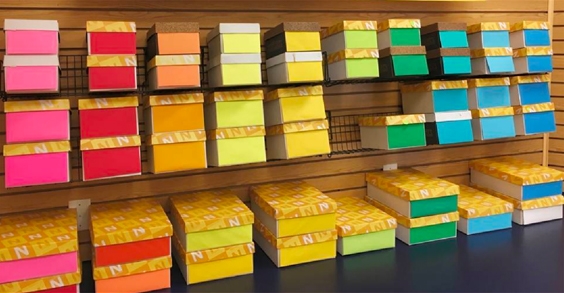 At paperworks.com, we want you to be fully satisfied with your purchase. We're happy to take your return, for any reason, and refund the full purchase price of the product returned to us in resalable condition in its original packaging. Should you decide that the paper purchased from us does not meet your expectations or is not what you wanted, if you're unsatisfied with the product(s) for any reason at all, you may arrange to return the product and receive a full purchase price credit within 30 days of your original purchase. 
Closeout items are final sale.
*As colors may vary from monitor to monitor, Paperworks cannot guarantee an exact color match. We strive to make sure all of our pictures are as accurate as possible, but some products may look slightly different in person vs on a screen, therefore slight color inaccuracies are unavoidable. The only true way to see the exact color is to order a 8.5x11 sample of the product you are interested in.
Our monitors are color calibrated with Spyder calibration equipment thus best color results are achieved with similar calibration software. Metallic colors are scanned to show the sheen of the sheet and are in fact a solid color.
Because paper and envelopes are products made with natural materials, which age, please make returns within 30 days of accepting delivery of your order. You may return any product in its original packaging in a resalable condition for a full refund of the purchase price of the product within 30 days or your original purchase. 
Follow these easy steps.
Call or Email Paperworks within 30 days from the day purchased to receive a return authorization code.

Write this code on the back of your original packing slip (if the packing slip has been misplaced please print a copy of your email receipt and write the return code there). If you wish write a description of why you are sending the item back.

Carefully repackage your item, make sure it is in resalable condition, and include enough packing materials to ensure your package makes it back without damage. Packages damaged in transit cannot be refunded therefore Paperworks suggests using a carrier that will pay for a package if damaged such as UPS or FedEx.

Ship your package back to us using this format:

(Write in Return Authorization code here RA# ________)
PAPERWORKS.com
Return Department
400 Glenwood Avenue
Pawtucket RI 0286 

Once we receive your package you will see the funds back to you within 3 working days.
Please be sure to repackage your item with care as Paperworks cannot be held accountable for items damaged in transit, any items returned damaged will not be refunded. We do not accept returns on product that has been handled, cut, printed, or is otherwise not in perfect mill condition. Shipping charges for the delivery and return of your products will not be refunded. Any order that qualified for any free shipping promotion will have the original shipping cost deducted from the refund amount.
Items sent back to Paperworks beyond 30 days without a Return Authorization Number will not be refunded.
Any orders that are refused by a customer will be subject to a refusal fee, if a package does arrive damaged please contact us as soon as possible to correct the issue.
*Samples, custom jobs, and items from our Closeouts section are non-refundable
Paperworks offers custom cutting of most of the papers listed on the website, we stock many parent size sheets of our most popular items for cutting to larger sizes (up to 23x35). Our Custom Cutting charge is $20.00 for the first ream and $2.00 for any additional ream of the same product with the same custom cut. Please note custom cut orders have a minimum 1-2 business day processing time. 
Orders received before 3:00 PM Eastern Time Monday through Friday will ship on that same day. Orders placed after 3:00 PM Eastern Time will be shipped the next business day. In case of delays due to insufficient inventory or circumstances out of our control (weather,etc.) you will be contacted as soon as possible.
Upon the arrival of the package, please be sure to inspect your goods to make sure all contents are correct and not damaged. Unfortunately Paperworks cannot be held responsible for problems with packages over 20 days old. If there are any problems with your shipment, please give us a call and we will resolve the issue as quickly as possible.
Orders totaling over $179 will receive free shipping from Paperworks, free shipping is limited to within the continental US only unless otherwise noted. Please note there are certain exceptions that will be noted on an item-to-item basis in the product description. Also, note upon return any order that qualified for free shipping will have the original shipping cost deducted from the refund amount.
We would like to inform you of the presence of specific rates applied to Canadian orders. There is a brokerage fee that is applied by FedEx to all orders that are imported to Canada when shipped with standard international shipping (this fee is avoided when using international expidited delivery). This fee is charged on top of your order total, and is determined by FedEx once your package arrives at the border. You will be responsible for these fees, as well as any additional fees or taxes incurred by Canada. If a package is refused or undeliverable internationally the return freight will be deducted from the credit due from us on arrival. We apologize for the inconvenience. For further information, please check with the FedEx website.
Paperworks can customize almost all products on the website. Most products can be custom cut, perforated, or scored.  Our prices are the best and our turnaround service is the fastest.  We offer a custom customization tool or you can call or chat with our Paper Professionals.  Any questions about custom order products please contact our Paper professionals. 
Paperworks offers the service of custom cutting, perforating, and scoring jobs. There is an option to do any of these custom jobs on most products. All custom orders have a minimum 1-2 day turnaround time. 
The rates are as follows:
Cutting - a flat rate of $20 (on top of the original product price). This means you can get as many cut packages of the same product and size for a flat fee.
No cut job can be smaller than 3"x3".
Please keep in mind we do not cut already printed products.
Perforating and Scoring - $30 fee for the first ream (on top of the original product price). Any reams following will be an additional $10 fee.
No perf or score job can be smaller than 3"x3".
Please keep in mind all cotton-based papers (Lettra or Savoy, etc) need a .25 trim due to a 100% cotton base.